See on Scoop.it – e-books kindle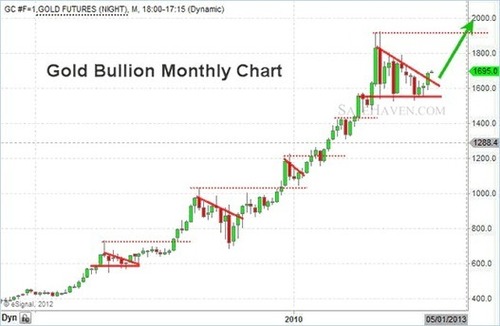 by Chris Vermeulen:
« … Central bank purchases, led by the emerging markets, are on track this year to hit a record high according to the World Gold Council. China alone in 2011 bought around 490 tons of gold. Other countries including Russia, Turkey and South Korea have added gold to their official holdings in recent months. This buying showed up as central bank purchases in the second quarter of 2012 were more than double the level reported a year earlier at 157.5 metric tons. If the buying continues at current levels, central banks gold purchases would total around 500 tons this year, easily surpassing last year's 458 tons.
« The bottom line for investors from the global central banks' buying of gold? The gold standard is working its way back into the international monetary system through the back door. This should, in the long-term, put a floor under gold and help maintain it on its steady upward path.
« Just last week we started to see gold bullion, silver bullion and gold miner share prices start to breakout to the upside of a 12 month consolidation pattern. This could be the start of the next major rally in precious metals as future uncertainty fears continue to rise. The large bullish technical pattern … »
See on www.safehaven.com
About the Author